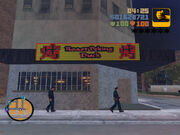 Roast Peking Duck is a restaurant located in the district of Chinatown, Portland Island, Liberty City. It is located on the corner of an intersection, opposite a basketball court near the park. The sign is yellow and rectangular with the Chinese character 烤, meaning roast, on either side. The restaurant is unique for having its own ambient music. A hidden package is located in its alleyway in Grand Theft Auto III.
Gallery
Ad blocker interference detected!
Wikia is a free-to-use site that makes money from advertising. We have a modified experience for viewers using ad blockers

Wikia is not accessible if you've made further modifications. Remove the custom ad blocker rule(s) and the page will load as expected.