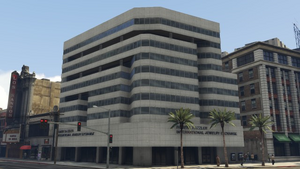 The Robert Dazzler International Jewelry Exhange is, as implied, a jewelry exchange company in Grand Theft Auto V. It is located next to Elkridge Hotel on the corner of San Andreas Avenue and Strawberry Avenue in Mission Row, Los Santos. It is based on the International Jewelry Center of Los Angeles.
Outside the building are vending machines dispensing LS24 and the Daily Rag newspapers and a United States Post mailbox. Two usable ATMs can be found on the Strawberry Avenue side of the building.
Trivia
If the British abbreviation of the name "Robert" in Robert Dazzler is used, the name of the company will read as "Bobby Dazzler". This is a northern English phrase used to express an admiration for someone or something particularly liked.