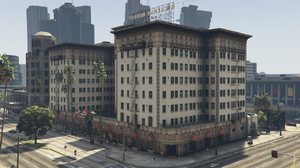 The Rockford Dorset Hotel is a luxury hotel that appears in Grand Theft Auto V. It is located at the intersection of Dorset Drive and Palomino Avenue in Rockford Hills, Los Santos, next to the Weazel Dorset theater. It is based on the Beverly Wilshire Hotel in Beverly Hills, California. The hotel is not accessible by the player.
Prominent Appearances in Missions
GTA Online
Gallery
Trivia
There are American and Canadian flags at the entrances of the hotel, most likely a reference to Four Seasons Hotels and Resorts, a Canadian company that owns the Beverly Wilshire Hotel in real life. This would imply that the Rockford Dorset Hotel is also owned by a Canadian company in GTA V.