"Perfect place to raise a family."
―The Hills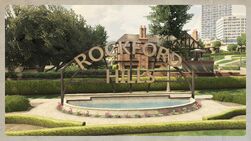 Rockford Hills is a high-class residential and commercial neighborhood in northern Los Santos, San Andreas in Grand Theft Auto V.
Character
The neighborhood is described as being filled with large luxurious houses, manicured lawns and gardens as well as having a lot of high-end cars driving around. In game, there many large mansions hidden from the street by large hedges and tall fences. Many of the properties are enterable and simply driving through the gate will open it allowing you to see the large swimming pools and manicured gardens of the wealthy residents. In the more commercial part of Rockford Hills is the famous
Portola Drive
where you can find high end clothes retailers like
Ponsonbys
. Two large apartment buildings available for purchase in
GTA Online
,
Richards Majestic
and
Weazel Plaza
are also located nearby. Rockford Hills is bordered by
Vinewood Hills
to the north,
Vinewood
to the east,
Little Seoul
to the south and
Los Santos Golf Club
/
Richman
to the west.
Events of GTA V
This is the main setting of many missions in the game, and the start points from missions received at Michael's mansion. Rockford Hills is too where the important mission Meltdown takes place, where Devin Weston sends several Merryweather members to kill Michael's family.
Influence
The neighborhood is based on Beverly Hills, for its mansions and luxury life. Though the real Beverly Hills is an incorporated city separate from Los Angeles, Rockford Hills is part of Los Santos.
Notable residents
Transport
Places of interest
Cottage Park
Leopolds Hotel
Rockford Hills Police Station
Businesses and Landmarks
Jonny Tung
Wenger Institute
Winfrey Castiglione
Roads and Streets
Dorset Drive
Eastbourne Way
Marathon Avenue
Trivia
Gallery