Rockshore West is a district located in south Las Venturas, San Andreas.
Description
It is situated between Rockshore East and the Last Dime Motel. The district is primarily residential, since there are numerous houses located here. There is a safehouse located here, which the player could purchase for $30,000. Because the suburb is located South East of The Strip, it may be based on Henderson, Nevada before the population boom occurred there.
Residents
Places of Interest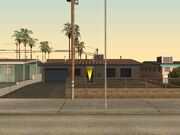 Weapons and pickups
Other
Ad blocker interference detected!
Wikia is a free-to-use site that makes money from advertising. We have a modified experience for viewers using ad blockers

Wikia is not accessible if you've made further modifications. Remove the custom ad blocker rule(s) and the page will load as expected.