The Rockstar Editor is a feature in Grand Theft Auto V. It is only available in the PlayStation 4, Windows, and Xbox One versions of the game.
Overview
| | |
| --- | --- |
| | This article or section is Under Construction. |
It is a successor to the Replay feature seen previously in Grand Theft Auto IV's PC version. The Rockstar Editor was available from launch on the PC version of the game, and was later added to the Xbox One and PlayStation 4 on 15 September 2015, as part of the Freemode Events Update.
The Rockstar Editor gives the player the ability to create, edit and share videos of Grand Theft Auto V and Grand Theft Auto Online. There are various editing tools at the player's disposal, including camera filters, custom camera placement, and music to complement the recording.
The player can use the various available recording tools to create their own videos, which can be uploaded to YouTube and the Rockstar Games Social Club.
Gameplay in first-person perspective cannot be edited in the editor.
On August 19th, 2015, Rockstar confirmed the release of the feature on Xbox One and PS4 within the next summer weeks, via the Rockstar Newswire and various Social Media websites.
Features
The player can record gameplay footage from GTA V or GTAO, by accessing the HUD via the "down" button on the controller. From here, two options are available to record; start recording manually, or action replay, an option that allows for clips to be recorded in the last few seconds of gameplay. 
After clips are recorded, they can be edited by accesing the Rockstar Editor tab of the Pause Menu. From the main page of the Rockstar Editor tab, several options are available, which include; creating a new project, continuing work on a project, director mode (unavailable if wanted in-game, or has been away from gameplay for a certain period of time), clip management, or quitting. 
In the project menu itself, there's various options, including; adding a clip, radio track, ambient sound effects or music, and text. There's also various options available to save, edit the title, or upload to the video gallery, where you can officially publish to the Social Club or Youtube.  
On the project timeline, clips, music, sound effects and text can be added, relocated, and trimmed. Music, sound effects, and text, are all mostly edited on this, while clips are more expansive and in-depth in its editing capabilities. 
For the Xbox One and PS4 release of the feature, new features were introduced, the listed features were also added to the PC version.
Ambient Audio and Sound Effects Library: Ambient and atmospheric sound design with a library of audio tracks, or add sound effects from a collection of Foley and other SFX.
Snapmatic Integration: The player can export any still frame at a marker point straight to Snapmatic.
Director Mode Updates: An enlarged minimap with location blips to highlight preset locations, the power to freeze chosen time of day settings and the ability to spawn air and water vehicles.
Copy and Paste Marker Properties: Copy and paste your audio settings from any marker to another marker in the clip.
New Fonts: You'll now have more style options than ever for your titles and credits, tripling the number of fonts available before. 
A scene creator for Director Mode, allowing players to place props, and save the designs and layouts created by them.
Ambient music and sound effects, including screams, creaks, groans, and animal sounds.
Director Mode
Included in the editor is a Director Mode which allows the player to play as any one of 276 character models in a Free Mode map that can have many settings customised. These character models vary in their capabilities, with some being unable to enter vehicles or use weapons.
Glitches
When editing a clip, if a breakable item (such as a window) is broken, it will not undo itself when rewinding a clip after the glass has been damaged.

Similarly, explosions from sticky bombs, tire blow-outs, car backfiring's, and helicopter tail-rotor blow-outs won't show when rewinding clips or shifting along clips while editing. They will only show when playing the clip.
Gallery
Grand Theft Auto V
Video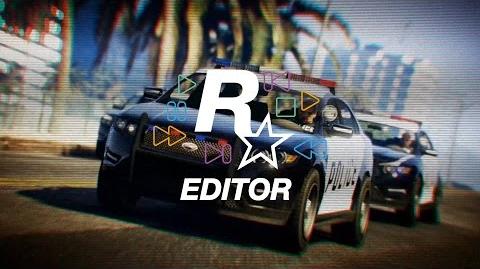 Trivia
Probably due to licensing issues, a large portion of radio tracks cannot be used in the editor.

The Soulwax FM radio track "Palmbomen - Stock (Soulwax Remix)" available in the editor is not the stated remix, but rather the original version of the song.
The Self Radio station is completely missing from the editor list.
Ad blocker interference detected!
Wikia is a free-to-use site that makes money from advertising. We have a modified experience for viewers using ad blockers

Wikia is not accessible if you've made further modifications. Remove the custom ad blocker rule(s) and the page will load as expected.