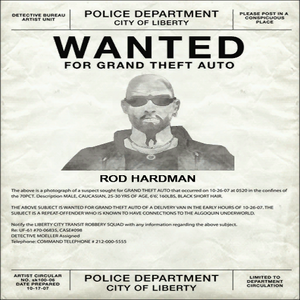 Rod Hardman is a criminal wanted by the LCPD for Grand Theft Auto, after apparently stealing a delivery van. He doesn't appear at any point of Grand Theft Auto IV. His poster can be seen at the Alderney State Correctional Facility. He is said to have multiple offenses, and has connections with the Algonquin underworld. He is supposedly between the ages of 25 and 30, and is 6'6 with short, black hair.
Ad blocker interference detected!
Wikia is a free-to-use site that makes money from advertising. We have a modified experience for viewers using ad blockers

Wikia is not accessible if you've made further modifications. Remove the custom ad blocker rule(s) and the page will load as expected.