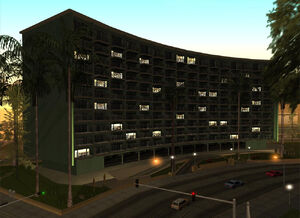 "If you need a very expensive place from which to base your assault on the exclusive shops of Rodeo, then why not stay at the Rodeo Hotel? The hotel where the legends stay. Including the film stars, directors, models and war criminals from Vinewood's golden age."
―GTA San Andreas Official Website
Rodeo Hotel is a hotel which, as its name implies, is in west Rodeo, Los Santos. It features in Grand Theft Auto: San Andreas.
DescriptionEdit
The building is very large and high. It is painted green and is 11 stories tall. The hotel includes an underground parking lot with 15 parking spaces. It is completely inaccessible to the player and plays no role in the storyline.
InfluenceEdit
Rodeo Hotel is based on Hyatt Regency Century Plaza, a landmark luxury hotel in Los Angeles.