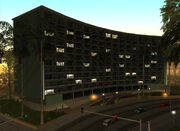 Rodeo Hotel is a hotel which, as its name implies, is in Rodeo, Los Santos. Appears in only Grand Theft Auto: San Andreas.
Description
If you need a very expensive place from which to base their assault on the exclusive shops of Rodeo, then why not stay at the Hotel Rodeo? The hotel where the legends stay. Including movie stars, directors, models and war criminals from the golden age of Vinewood "says the website of the game. The building is very large and high. It is painted green and seems to be about 10 stories or so. The hotel is completely inaccessible.
This article or section contains insufficient information and is considered as a Stub. You can help GTA Wiki by expanding it as much as you can.