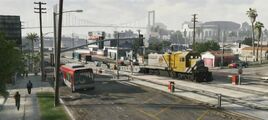 Roy Lowenstein Boulevard is a street in Davis and Rancho, South Los Santos that appears in Grand Theft Auto V. 
The boulevard runs from Little Bighorn Avenue in the northeast to Dutch London Street in the southwest. It has connections to Innocence Boulevard, Macdonald Street, Carson Avenue and Covenant Avenue.
Properties
Places of Interest
Businesses
Auto Parts
Beauty Store (corner of Macdonald Street)
Cabinets & Carpets (corner of Carson Avenue)
Cent Carpet (corner of Innocence Boulevard)
Hayes Auto Body Shop (corner of Carson Avenue)
Hearty Taco (corner of Dutch London Street)
Gang Control
It may be disputed territory as both the Vagos and the Aztecas spawn in the area. This suggests that there may be gang violence in the area between these two gangs.
Trivia