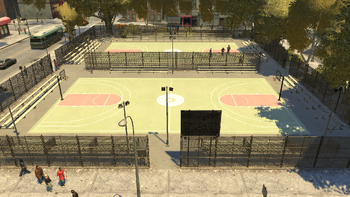 The Rubin Swinger Basketball Courts, or Swinger Park are two different sets of basketball courts in Grand Theft Auto IV and its episodes.
Description
One of the courts, located in Northwood, on Exeter Avenue, between Xenotime and Wardite Streets, is intended to mimic the Holcombe Rucker Playground, better known as Rucker Park, a street basketball court that's famously known as the playing grounds of many street basketball legends, as well as a few NBA players.
The second "Rubin Swinger Basketball Courts" is situated on a converted Golden Pier dock in Westminster, behind a Burger Shot outlet. The use of a similar name is likely to have been done during development to reuse props in multiple locations in the city.
Mission Appearances
Gallery
Ad blocker interference detected!
Wikia is a free-to-use site that makes money from advertising. We have a modified experience for viewers using ad blockers

Wikia is not accessible if you've made further modifications. Remove the custom ad blocker rule(s) and the page will load as expected.