This article needs more images of:


Design gallery images.




You can help by adding some relevant images or discussing changes on the talk page.
Please remove this template when images are added.
Note: Please remember to follow our image policy in naming and licensing before adding images.
The Sabre Turbo (also known as the Sabre GT in Grand Theft Auto IV and Grand Theft Auto: Chinatown Wars) is a high-performance variant of the Sabre featured in both the 3D Universe and the HD Universe. The Sabre Turbo is manufactured by Declasse in the HD Universe.
Design
3D Universe
Other than the presence of a racing stripe, the Sabre Turbo appears mostly the same as a standard Sabre. The Grand Theft Auto: Vice City rendition of this vehicle appears only in red with a white stripe (the stripe is fixed to the car in the .txd file in gta3.img), whereas in Grand Theft Auto: Vice City Stories, it appears in several colors, while retaining a racing stripe that is always light green. In GTA Vice City Stories, the Cholo Sabre looks the same as the Sabre Turbo except that the Cholo Sabre is yellow with a white stripe.
HD Universe
Named as the Sabre GT in Grand Theft Auto IV, it borrows bits and pieces from various American muscle cars. The back and sides resemble a 1970 Oldsmobile Cutlass, but the sides have softer lines and could be from a '70 Chevelle SS, the front is similar to a '70 Buick GSX or a '70 Chevelle Malibu (the headlights and the shape of the bumper are also very similar to those of a 1970 Cutlass or 1969 Plymouth Road Runner), and the front bumper's round turning signals are similar to those of a '69 Dodge Coronet. The wheels appear to be based on those found on a '70 Pontiac Firebird. The paintjob seems to look like that of a Mustang Mach 1 with some characteristics of a Shelby Mustang. The different hood scoop on some Sabre GTs resembles that of a 1968 Shelby Mustang, while some resemble the 442 Cutlass. Overall, the look created emulates the GM big body V8 coupes of the early 70's (Cutlass, Skylark, Chevelle). The Sabre GT, being an older design, has a different Declasse logo than the manufacturer's other cars: a circle with "Declasse" written around the inside edge.
Several variants of the Sabre GT appear in GTA IV:
A variant with a pentagon-shaped intake bulge on the hood.
A variant with a twin ram-air hood as well as cui (cubic inches) markings and other stickers.
A variant with none of these and a completely standard hood.
In Grand Theft Auto V, the vehicle is again called a Sabre Turbo but remains almost identical to its GTA IV appearance. The differences include a shinier grille and the loss of the chin spoiler. The Sabre Turbo also sports a fairly wide selection of parts that can be installed in Los Santos Customs, including a chin spoiler that makes it look like the GTA IV version.
Current Design Gallery
Version History Gallery
Performance
3D Universe
Compared to a regular Sabre, the Sabre Turbo is capable of better acceleration, top speed, and cornering, and it emits a different engine sound from that of its stock counterpart. Because of its modified engine, the car also emits a noise associated with vintage turbo-charged engines (possibly a turbocharged V8 with multi-barrel carburettor). In GTA Vice City, the Sabre Turbo is an excellent car for street racing, as it's as competitive as more modern sports cars like the Banshee, Infernus, and Stinger despite its rather soft suspension.
In GTA Vice City Stories, its performance traits are similar to those of the Polaris V8.
Grand Theft Auto IV
The Sabre GT houses a turbocharged version of the regular Sabre's herculean 9-litre (550 ci) V8 (a massively exaggerated capacity for a vehicle of its type), equipped with the same drivetrain. The behemoth of an engine is comparable to that of the Imponte Dukes, though the wider tires and shorter wheelbase eliminate some of the hideous wheelspin resulting from the rear wheels having to cope with such levels of torque. Though the back-end readily swings round corners, this issue is noticeably more controllable in corners than for the Imponte equivalent. The exhaust note is unique to the Sabre GT, and it shares its horn with the Sabre. Although the exhaust note more closely resembles the Stallion when heard from the rear of the car, the Sabre's exhaust is slightly less audible in comparison. However, when heard from the front of the car, the whistle of the turbo and the roar of the 550ci V8 are distinct.
GTA IV Overview
Acceleration
(0 - 60mph / 0 - 100km/h)
Top Speed
(mph / km/h)
Engine Details
(Layout/Type/Decal Detail)
Drivetrain
(AWD / FWD / RWD)
Gears
(Number + Type)
Mass
(Kg / lb)

n/a

Top Speed (Handling.dat)
n/a
Top Speed (Tested)
n/a

9.0 Liter (550ci) (Badging)
FR SOHC V8 (In-game model)

Drivetrain (Handling.dat)
n/a
Drivetrain (Tested)
RWD

Gears (Handling.dat)
n/a
Gears (Tested)
5

n/a
Grand Theft Auto V
In GTA V, the Sabre Turbo features the same powerful 550 ci turbocharged V8 coupled to a long-throw 5-speed semi-auto manual transmission powering the rear wheels. As a classic seventies muscle car, the vehicle has a heavy body, soft suspension, and mediocre brakes, and it suffers from large amounts of wheelspin when accelerating. However, it can still keep up with more modern muscle cars as a result of its surprisingly good turning circle and exceptional power. The vehicle's weight also works to its advantage in reducing oversteer and providing exceptional durability and ability to shunt other cars around.
GTA V Overview
Source
Acceleration
(0 - 60mph / 0 - 100km/h)
Top Speed
(mph / km/h)
Engine Details
(Cubic Capacity/Layout/Type)
Drivetrain
(AWD / FWD / RWD)
Gearbox
Number + Type
Mass
(Kg / lb)

Defined/Claimed
(i.e. Game data definitions, or claimed in-game.) (Claimed Top Speeds)

n/a
87 / 140 (Handling.dat)

9.0 Liter (550ci) (badging)

RWD

5

1200 / 2646

Observed/Tested
(i.e. recorded/tested using in-game data.) (Observed Top Speeds & Acceleration Times)

6.1 Seconds
110 / 177

FR Turbocharged V8

RWD

5

Mass cannot be observed.
Modifications
Grand Theft Auto V
Type
Upgrade
Cost (Story)
Cost (Online)
Armor
Armor Upgrade 20%
$500
$4,500
Armor Upgrade 40%
$1,250
$7,500
Armor Upgrade 60%
$2,000
$12,000
Armor Upgrade 80%
$3,500
$21,000
Armor Upgrade 100%
$5,000
$30,000
Brakes
Street Brakes
$2,000
$4,000
Sport Brakes
$2,700
$5,400
Race Brakes
$3,500
$7,000
Bumpers
Custom Chin Spoiler
$500
$1,000
Extended Chin Spoiler
$750
$1,500
Painted & Chin Spoiler
$1,000
$2,000
Painted & Large Splitter
$1,300
$2,600
Painted Rear Bumper
$500
$1,000
Engine
EMS Upgrade, Level 1
$900
$1,800
EMS Upgrade, Level 2
$1,250
$2,500
EMS Upgrade, Level 3
$1,800
$3,600
EMS Upgrade, Level 4
$3,350
$6,700
Exhausts
Chrome Tip Exhaust
$375
$750
Big Bore Exhaust
$899
$1,800
Side Exit Exhaust
$1,499
$3,000
Grilles
De-Chromed Split Grille
$375
$750
Painted Light Surround
$670
$1,340
Hood
Cowl Induction Hood
$325
$650
Ram Air Hood
$750
$1,500
Carbon Hood
$875
$1,750
Triple Intake Bug Catcher
$1,000
$2,000
Single Intake Bug Catcher
$1,200
$2,400
Lights
Xenon Lights
$300
$3,000
-
-
Loss/Theft Prevention
Tracker
N/A
$2,000
Full Coverage
N/A
$1,875
Respray
-
-
Crew Emblem
N/A
$25,000
Roll Cage
Roll Cage and Chassis Upgrade
$550
$1,100
Stunt Cage
$675
$1,350
Sell
Sell Vehicle
N/A
$1,500
Spoiler
Low Level Spoiler
$275
$550
Suspension
Lowered Suspension
$500
$1,000
Street Suspension
$1,000
$2,000
Sport Suspension
$1,700
$3,400
Competition Suspension
$2,200
$4,400
Transmission
Street Transmission
$2,950
$5,900
Sports Transmission
$3,250
$6,500
Race Transmission
$4,000
$8,000
Turbo
Turbo Tuning
$2,500
$30,000
Wheels
-
-
Wheelie Bar
Wheelie Bar
$350
$700
Windows
Light Smoke
$200
$1,500
Dark Smoke
$450
$3,500
Limo
$700
$5,000
Image Gallery
Grand Theft Auto: Vice City
Grand Theft Auto IV
Grand Theft Auto V
Official Screenshots
Variants
Sabre Turbo Custom
A heavily-modified variant of the Sabre Turbo was released on April 19th, 2016, as part of the continuation of the Lowriders: Custom Classics update.
Special Variants
Stevie requests a unique green pearlescent Sabre GT. It spawns on a driveway of a house in Tudor Street, Meadow Hills. The player can save one before delivering another to Stevie.
Prominent Appearances in Missions
Grand Theft Auto: Vice City
The Driver - Hilary owns a Sabre Turbo, against which the player must race in this mission.
Upon purchasing Sunshine Autos, a Sabre Turbo is seen being driven to the property during the triggered cutscene.
Locations
Grand Theft Auto: Vice City
Grand Theft Auto: Vice City Stories
Grand Theft Auto IV
Grand Theft Auto: Chinatown Wars
Grand Theft Auto V
Grand Theft Auto Online
Notable Owners
Hillary King as seen in the mission The Driver.
Tommy Vercetti (after completing the second List in the Sunshine Autos Import Garage)
Vic Vance (If he owns a Smuggling Business)
Trivia
General
The Sabre Turbo and Sabre GT plays following radio stations by default when entered:
3D Universe
In the GTA Vice City beta, the Sabre Turbo had twin tail lights and had its grille split in the middle.
A unique Sabre Turbo can be obtained in GTA Vice City, during the mission The Driver.
Even though the Sabre Turbo in GTA Vice City Stories has dual exhaust pipes, exhaust fumes only come from the right pipe.
The Sabre's name could be inspired by its real-life counterpart the Oldsmobile Cutlass, as the names are two types of swords.
HD Universe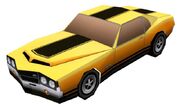 On the back cover of the GTA IV disc case, there's a picture of Niko outrunning several Police Cruisers in a red and white Sabre GT.
In GTA IV, the police refer to the Sabre GT as a "Classique Sabre GT", but this car is made by Declasse, although it looks like an Oldsmobile.
After collecting all cars for Stevie he agrees to purchase cars off Niko, with the Sabre GT fetching $2000
In GTA V, the Sabre Turbo was used to show off the modification aspects of the game.
One of the cars on which the Sabre Turbo is based in the HD universe, the Buick GSX, prominently appeared on one of the promotional posters for the original Grand Theft Auto.
Although the car is called a "Sabre Turbo" in GTA V, the badge on the trunk says "Sabre GT".
In GTA V, the Stunt Cage modification will remove the car's passenger seat, yet the vehicle is still able to seat two. Part of the Stunt Cage's tubular structure also passes between the two passenger places, an arrangement which in reality would make moving from one side to the other impossible (or at the very least incredibly difficult), yet if the player enters their vehicle from the passenger side, they will slide over to the driver's seat as normal, actually clipping through the Stunt Cage as they do so.
Unlike the GTA IV version, the GTA V Sabre Turbo does not include a turbo whine, despite "Turbo" replacing "GT" in the vehicle's name.
See Also