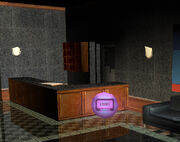 Safehouses return in Grand Theft Auto: Vice City. The main difference from the previous game Grand Theft Auto III is that the player has to pick up a pink floating cassette tape in order to save the game. In the beginning, Ocean View Hotel is automatically given to the player for free but has no garage or weapons. The player has to purchase other properties for garages.
Safehouses can be bought by picking up a floating green house icon in front of a building for a price.
All safehouses are available to buy from the beginning of the game, however due to a storm cutting off parts of the city, not all of them are normally accessible. The player may have to do some side missions in order to raise the necessary money (the cheapest with a garage is $6000), which may be useful if they are interested in storing unique vehicles as three of them spawn in the early missions. The player must buy all the safehouses around Vice City to complete the game 100%, all costing 41500$.
Note that the Ocean Heights Apartment and the Hyman Condo have garages with high clearance, allowing the player to store tall vehicles such as a Mule.
See also