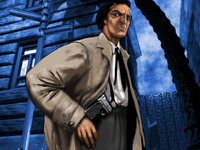 Samuel Deever (born September 27, 1969) is a character in the game Grand Theft Auto 1.
Deever is a former police officer who can be characterized as tall, dark, has several nipple piercings, and is deeply disturbed. He has been arrested for suspected cannibalism during a stakeout, urinating on a superior officer's desk, theft of impounded narcotics, malicious wounding of fellow officer on five separate counts, incestuous practices, sexual harassment, reporting for duty under the influence of alcohol, kidnapping, alleged sodomy of a superior officer and enjoying all of the Police Academy movies. He is currently under investigation from internal affairs for trafficking in stolen drugs, collusion with New World Order forces, operating a tattoo parlour without appropriate licences and indecent exposure.
Deever can be encountered in the Vice City part of the storyline of GTA 1.