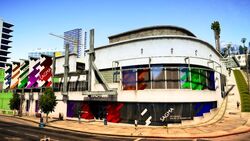 The San Andreas Gallery of Modern Art (SAGMA) is an art gallery in Grand Theft Auto V located on Hawick Avenue and Eastbourne Way in Burton, Los Santos. The gallery features "new contemporaries" and "a vast European collection", according to the posters surrounding the building.
Influence
The gallery is presumably based on the Pacific Design Center, a branch of the Museum of Contemporary Art (MOCA) in West Hollywood. Judging by its location, however, the building that houses it is based on one located at 8300 Melrose Ave, not too far away in real life Los Angeles.
Ad blocker interference detected!
Wikia is a free-to-use site that makes money from advertising. We have a modified experience for viewers using ad blockers

Wikia is not accessible if you've made further modifications. Remove the custom ad blocker rule(s) and the page will load as expected.