San Fierro Fastlane is a race in Grand Theft Auto: San Andreas.
Description
In this race the player must drive a Alpha through a series of checkpoints in San Fierro. The race can be started by entering the red marker located north of the Doherty Garage save point after the mission Verdant Meadows is completed.
The prize for this race, and for all other races in the game is $10,000.
Map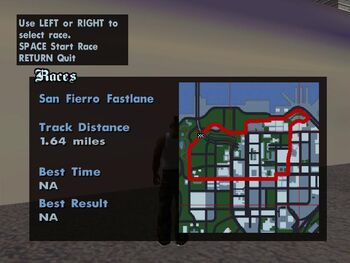 Walkthrough
Ad blocker interference detected!
Wikia is a free-to-use site that makes money from advertising. We have a modified experience for viewers using ad blockers

Wikia is not accessible if you've made further modifications. Remove the custom ad blocker rule(s) and the page will load as expected.