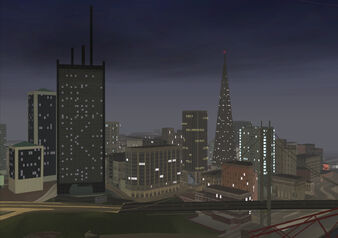 The San Fierro Tower is the second tallest structure in the State of San Andreas. It is located in Downtown, beside the entrance to the Garver Bridge. It is a triangular-shaped building, with an open space running through the building. It seems to be only a little smaller then the nearby Big Pointy Building in Financial, excluding the building's many spires and is loosley based off of 555 California street which is the second tallest building in San Francisco. However, if the spires were included in the official height, the San Fierro Tower would be the tallest building in San Fierro and in the whole State of San Andreas. The building has 61 floors.
Trivia
If viewing the tower at night coming from the Garver Bridge, the player can see the Rockstar Games logo being shown as the lighting of the building.
There is a Window Cleaning Platform on the south face of the building that can be just reached by using a Jetpack. There is nothing on the platform and it is not operatable, unlike the ones in GTA IV.