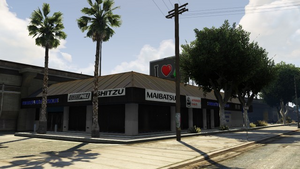 Sanders Motorcycles is an authorized motorcycle dealership in Grand Theft Auto V, located next to Get Aweigh on Adam's Apple Boulevard in Mission Row, Los Santos. 
As well as selling Speedophile, Shitzu and Maibatsu-manufactured vehicles, the business specializes in servicing, tuning and repairs. 
Ad blocker interference detected!
Wikia is a free-to-use site that makes money from advertising. We have a modified experience for viewers using ad blockers

Wikia is not accessible if you've made further modifications. Remove the custom ad blocker rule(s) and the page will load as expected.