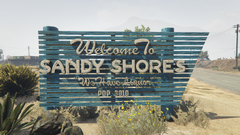 Sandy Shores is an incorporated rural town located in Blaine County, San Andreas, featured in Grand Theft Auto V. It overlooks the Alamos Sea, as well as having a large mountain very close by. It has a population of approximately 3010, seen on a welcome sign on approach to the town. So far all that is known about the small rural community is that a motel and a liquor store operate in Sandy Shores.
Known residents
One of the three protagonists lives here, Trevor.
Trivia
The town is likely based off of Salton City, California, a town which in the 50's and 60's was a seaside resort for the wealthy, but was left basically abandoned due to rising water levels and pollution of the Salton Sea (Alamos Sea) in the 70's and 80's. Despite all this, the name is a variation of Desert Shores, California which is another town established nearby the Salton Sea. 
Gallery