Sandy Shores
is an incorporated rural town located in
Blaine County
,
San Andreas
, featured in
GTA V
.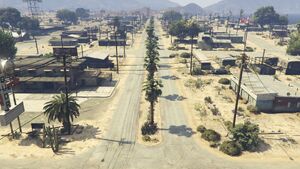 It overlooks the Alamo Sea, as well as having a large mountain very close by. It has a population of approximately 3,010, as seen on a welcome sign on the approach to the town. There is also a small landing strip, which is aquired by Trevor Philips from the Lost MC.
Sandy Shores is based on real life Desert Shores, while the town itself is based off of Salton City. Sandy Shores is a very run down, poor town with meth labs, trailer parks, drug addicts and prostitutes aplenty.
Locations in Sandy Shores
Known residents
Businesses
Trivia
The name of the town both share name similarities and look like the real life town of Desert Shores, California.
There is a street in the town named Cholla Springs Avenue, a reference to a desert location in Red Dead Redemption, another Rockstar Games title.
Gallery