"A beach town nowhere near the ocean where the town is a trailer park and the beach is a mixture of toxic sludge and pulverized fish bones."
―GTA V Manual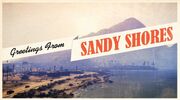 Sandy Shores is an incorporated desert town located in Blaine County, San Andreas, featured in GTA V.
It overlooks the Alamo Sea, as well as having a large mountain very close by. It has a population of approximately 3,010, as seen on a welcome sign on the approach to the town. There is also a small landing strip, which is acquired by Trevor Philips from The Lost MC.
Influence
Sandy Shores is based on real life Desert Shores, taking heavy inspiration from it; along with other towns in the area such as Bombay Beach, and Salton City. Sandy Shores is a somewhat abandoned, poverty stricken, very run down, poor town with meth labs, trailer parks, drug addicts, gang activity, prostitutes and bigoted rednecks aplenty. There is evidence of its past as a holiday destination by the decaying remains of motels and trailers by the coast of the Alamo Sea, referring to the history of the towns by the coast of Salton Sea. The town possibly became a poor, run down community because of the decline of tourism caused by the increasing toxicity of the Sea.
Locations in Sandy Shores
Known residents
Businesses
Roads and Streets
Trivia
Gallery