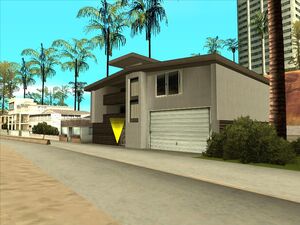 Name:
Santa Maria Beach Safehouse
Price:
$30,000
Location:
On the western side of Santa Maria Beach, Los Santos, adjacent to Yacht Harbor.
Garages:
1 (3 cars) Note: 2 motorcycles can be added, but at the risk of the cars disappearing.
Helipad:
No
Stories:
2 (there are two levels of the house, the ground floor and the safehouse)
Interior Appointments:
The interior of the house is average size, it has a hallway with the first bedroom on the left and the kitchen on the right, further down the hall is the wardrobe in which players can change there outfits, going further straight is the second bedroom, and the living room in to the right of the hallway.
Previous Possessor:
Unknown
Info:

In front of the safehouse is a parking lot, which contains random vehicles. Although relatively safe early in the game, following The Green Sabre the area becomes strong enemy gang territory and Carl may be subject to attack if he lingers outside the house too long.

This is the best choice to save your game when you are doing trucking missions since it's very close. It can be also a good choice to save your game after doing the mission Snail Trail.
Trivia
This safehouse is ideal for saving a Vortex and use in Beat the Cock! event during swimming portion.