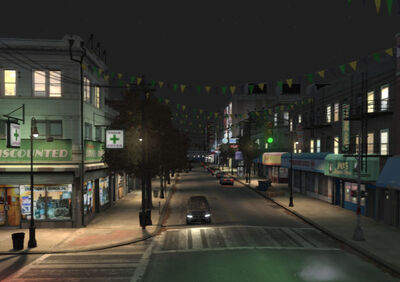 Saratoga Avenue is a main north-south street throughout eastern Dukes and Willis.
Description
It starts up on the intersection overpass of the Algonquin-Dukes Expressway in Beechwood City, Broker. It then then enters Meadow Hills for a block, and it continues up north through Willis, Dukes, along Willis, with the Willis Wash and Lube, near Lynch Street and leading up to The Big Willis Mall, at Saratoga Avenue and Carrollton Street. It ends in northern Willis and southern Meadows Park at the intersection with Tudor Street. Saratoga Avenue is used in one mission; Concrete Jungle, and a Freeway is parked on the street for Stevie's Car Thefts. Like other streets in Dukes, out of American patriotism, Valley Forge Avenue, Trenton Avenue, Yorktown Avenue, Concord Avenue, and Bunker Hill Avenue, they are named after important Revolutionary War Battles.
Notable Business
Trivia
There is a street in the real life New York City known as Saratoga Avenue, however, instead of being located in Queens (which the borough of Dukes is based on), the street is located in Brooklyn. 
Ad blocker interference detected!
Wikia is a free-to-use site that makes money from advertising. We have a modified experience for viewers using ad blockers

Wikia is not accessible if you've made further modifications. Remove the custom ad blocker rule(s) and the page will load as expected.