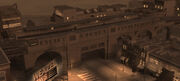 Schottler is a subway stop on the Liberty City Subway system, located at the intersection of Sundance Street and Seneca Avenue in the South Slopes neighborhood of Broker (though it's named for the nearby neighborhood). The station is served by the 3/8 Broker Line.
Its concrete viaduct design is influenced by the Queens Boulevard stretch of New York City's IRT Flushing Line.
The station plays a role in the mission "The Puerto Rican Connection"; it is the destination where the target gets off the train and Niko kills him on the orders of Manny Escuela. When going into the station sometimes there will be a drunken person either male or female with a common pedestrian model laying on the floor. 
Bug
The station platform uses a staircase where you can get up to the trains, but these stairs and their guardrails are placed right on the "yellow line" on the edge of the platform, thus blocking the way of entering/exiting pedestrians, which will lead to the peds leaving the train on the other side of the carriage. They will start walking on the tracks aimlessly, prone to get hit by the subway trains.
This can also happen to the player, and his friends/girlfriends (during activities or dates)
Trivia
This is the station implied in the train's destination sign: Sundance Street is an exit of the station, and South Slopes is the neighborhood it's in.