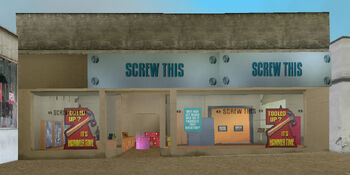 Screw This is a hardware store in Grand Theft Auto: Vice City. The store is located in Little Havana, Vice City, west the Little Havana Police Station. The store was not opened in 1984 but had opened by 1986. Tommy Vercetti can purchase various tools from the store, which he uses as weapons. Tommy Vercetti must also rob the store in order to gain 100% completion for GTA Vice City. 
Weapons for purchase
Trivia
The term screw this refers to an expression of frustration at a difficult task, usually when abandoning said task.
It has the same slogan as Tooled Up, another melee weapon/crafting tools shop in GTA Vice City.
See Also
Ad blocker interference detected!
Wikia is a free-to-use site that makes money from advertising. We have a modified experience for viewers using ad blockers

Wikia is not accessible if you've made further modifications. Remove the custom ad blocker rule(s) and the page will load as expected.