This article or section contains insufficient information and is considered as a Stub. You can help GTA Wiki by expanding it as much as you can.
This article concerns a game that is unreleased.
Some details may be speculative, and may turn out to be incorrect.
The
Scuba Suit
is a set of clothes in
GTA V
.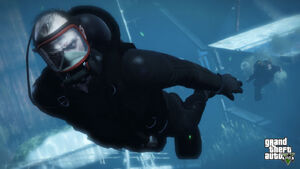 They are required for when the player wishes to dive underwater, and can apparently be found in certain stores and on some Boats. They can be used for searching the depths and looking for things such as the treasure in Shipwrecks.
Gallery