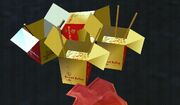 Secret Valley is a Chinese takeout restaurant in Grand Theft Auto: San Andreas.
Description
A Secret Valley store is located in Las Barrancas. Carl Johnson is able to take girlfriends out on dates to this location. Boxes of Secret Valley fried rice can be found inside most burglary houses.
Strangely, if the player utilizes mods in order to enter the Secret Valley's interior, he will fall through the floor because the floor, and most of the interior, is not solid and partially incomplete.
Ad blocker interference detected!
Wikia is a free-to-use site that makes money from advertising. We have a modified experience for viewers using ad blockers

Wikia is not accessible if you've made further modifications. Remove the custom ad blocker rule(s) and the page will load as expected.