"Look out for sticky tires and hot asphalt as you make your way across the desert in this road race on the Senora Freeway. You'll have to weave past oncoming traffic, go through Sandy Shores, and wind up at Davis Quartz quarry. Point to point race for land vehicles."
―Race description.
Senora Freeway is a race featured in Grand Theft Auto Online. As its name implies, player have to race on the Senora Freeway. The race begins at Braddock Pass, passes through Sandy Shores, and finishes at the Davis Quartz.
Map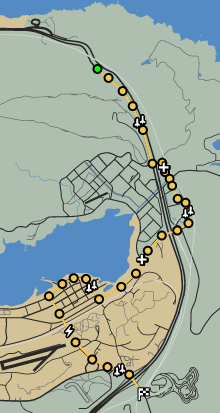 Gallery
Ad blocker interference detected!
Wikia is a free-to-use site that makes money from advertising. We have a modified experience for viewers using ad blockers

Wikia is not accessible if you've made further modifications. Remove the custom ad blocker rule(s) and the page will load as expected.