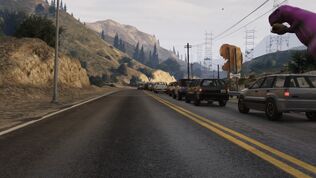 Senora Way is a north-south road in the rural areas of east San Andreas. Part of Interstate 1, it is a two-lane highway that provides access to the Palmer-Taylor Power Station and the RON Alternates Wind Farm in Los Santos County. In Blaine County, the Purple Dinosaur of Rex's Diner and the Davis Quartz mine are located along the road. It ends at an intersection of Route 13, where it becomes Route 68.
Ad blocker interference detected!
Wikia is a free-to-use site that makes money from advertising. We have a modified experience for viewers using ad blockers

Wikia is not accessible if you've made further modifications. Remove the custom ad blocker rule(s) and the page will load as expected.