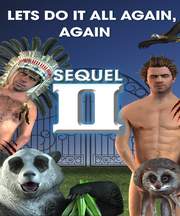 "Let's do it all again, again."
―Advertising billboard.
Sequel II is a movie featured in Grand Theft Auto V, played in the Astro Theaters of Del Perro, Los Santos, during the events of the game.
The film is a parody of sequels in general, and probably a reference to The Hangover movies, judging from the picture in its advertising billboards.
Trivia
This movie is a sequel to Sequel: The Movie, which was a movie being shown at the movie theater in Bully. However, like its predecessor in Bully, this movie cannot be watched at the theater. 
Ad blocker interference detected!
Wikia is a free-to-use site that makes money from advertising. We have a modified experience for viewers using ad blockers

Wikia is not accessible if you've made further modifications. Remove the custom ad blocker rule(s) and the page will load as expected.