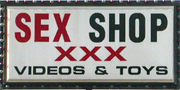 Sex Shop XXX
is a network of stores for adults located in
San Andreas
. There are four shops in
Las Venturas
, and another one in
Temple
,
Los Santos
. The only enterable shop is in
The Strip
, Las Venturas. The player cannot buy anything from that store, however, in the mission
Key to Her Heart
, where the player has to follow
Millie Perkins
to her house in
Prickle Pine
, the player is required to enter the store and put on a '
gimp suit
'. The enterable shop in Las Venturas contains various items, including Lightsaber Sex Toys and adult films, some starring
Candy Suxxx
as well as videos such as
Granny Grabber 10
,
Return of the Anaconda
,
Vinewood Call Girls
, and
That Can't Be Legal
.
Trivia
In the sex shops, on the counter is a stack of films which say "Grand Theft Auto: Vice City" on them.
Gallery