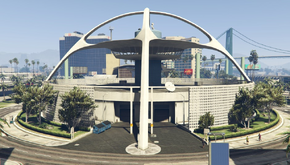 Sightings Bar & Restaurant is an iconic landmark structure in Grand Theft Auto V. It is located on Exceptionalists Way at the Los Santos International Airport, within the city of Los Santos. It opened in 1961, and it is an example of the Mid-Century modern influenced design school known as "Googie" or "Populuxe".
Description
The distinctive white building resembles a flying saucer that has landed on its four legs. The appearance of the building as a single homogenous structure is a cleverly constructed illusion. The building's two crossed arches actually consist of four steel-reinforced concrete legs that extend approximately 15 feet above the ground, and a hollow, stucco-covered steel truss constituting the remaining lower arches and entire upper arches. To avoid changing the appearance of the structure with overt reinforcement, the building was retrofitted with a tuned mass damper to counteract earthquake movements.
Collectibles
Trivia
Gallery
Ad blocker interference detected!
Wikia is a free-to-use site that makes money from advertising. We have a modified experience for viewers using ad blockers

Wikia is not accessible if you've made further modifications. Remove the custom ad blocker rule(s) and the page will load as expected.