This article contains insufficient information and is considered as a Stub. You can help the GTA Wiki by expanding it as much as you can.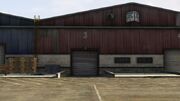 Simeon's Delivery Garage is a makeshift garage located in the 3rd space of the red warehouse located in Terminal, Los Santos, featured in Grand Theft Auto Online. It is used by Simeon Yetarian to allow the Online Player to deliver requested vehicles.
It is located with a letter 'S' on the map in the docks.