This article or section contains insufficient information and is considered as a Stub. You can help the GTA Wiki by expanding it as much as you can.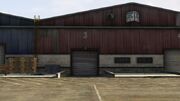 Simeon's Delivery Garage is a makeshift garage located in the 3rd space of the red warehouse located in Terminal, Los Santos, featured in Grand Theft Auto Online. It is used by Simeon Yetarian to allow the Online Player to deliver requested vehicles.
It is located with a letter 'S' on the map in the docks.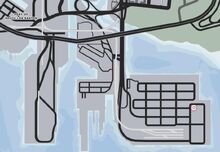 Ad blocker interference detected!
Wikia is a free-to-use site that makes money from advertising. We have a modified experience for viewers using ad blockers

Wikia is not accessible if you've made further modifications. Remove the custom ad blocker rule(s) and the page will load as expected.