Not to be confused with Lost Slamvan, a variant of the Slamvan also named "Slamvan" pre-GTA Online.
"The Slamvan is your ride straight back to a time when your shrink prescribed LSD, your President was a bigot, most people were bigots, and pickup trucks were actually pretty cool. Sure, some things have changed since the 50s, but with the brutal mod options we offer on this rig you can show everyone that utility vehicles ain't all about utility... or racist bumper stickers and gun racks."
―Benny's Original Motor Works description.
The Slamvan is a pickup truck featured in Grand Theft Auto: San Andreas, Grand Theft Auto V, and Grand Theft Auto Online as part of the Festive Surprise update.
Design
Grand Theft Auto: San Andreas
In GTA San Andreas the Slamvan resembles a heavily customized second generation Chevrolet GMC C/K with the front styling of a Dodge Sidewinder. Naturally, it is a two door and can only seat two people. Sometimes the Slamvan will spawn with a custom chain steering wheel, different from the one of the other cars.
In the beta version, Slamvans had a different wheel design and had a different paint job not seen in the final version.
Grand Theft Auto V
"Favorite 50's pickup of San Andreas Lowriders and Liberty City bikers. Smooth lines, chrome details, and shiny paintwork have made the Vapid Slamvan the toy of choice for idiots who won't grow up everywhere."
―Southern San Andreas Super Autos description.
The Vapid Slamvan resembles a Rat Rodded 1953–1956 Ford F-SeriesPickup. It appears that the top half of the cab is from a 67-72 Ford F-Series. The vehicle appears as a 2-door pickup with a wooden bed floor in a step side bed.
Current Design Gallery
Version History Gallery
Performance
Grand Theft Auto: San Andreas
The Slamvan is quite nimble and comfortable to drive due to its supercharged V8 and upgraded suspension, it possesses good acceleration and average top speed, its brakes are also strong, being capable of quickly stopping from top speed to zero, its dowsides however, is the arguably poor durability and stability, despite its low height, it can still rollover easily.
GTA San Andreas Overview



Vehicle Statistics - 3D Universe

Acceleration
(0-60 mph in Seconds)
Top Speed
(mph / kmh)
Gears
Engine
Drivetrain
(FWD / RWD / AWD)
Mass
(kg / lbs)

Handling.cfg

N/A
99 / 160
5
Petrol
RWD
1950 / 4299

Observed

N/A
N/A
N/A
N/A
N/A
Cannot be observed
Grand Theft Auto V
The Slamvan has a customized V8 with 4 double-barrel carburetors, which sounds similar to the Duke O'Death, The Liberator, and Marshall. In game stat-bars and testing has shown it has the same performance as the Rat-Loader and its clean variant, the Rat-Truck. Thus, it has average acceleration and top speed, matched with very poor brakes and traction. The Lost Slamvan features similar engine as the pick-up variant but has an improved acceleration. Traction is also enhanced as well as braking strengthened.
GTA V Overview



Vehicle Statistics - Grand Theft Auto V

Acceleration
(0-60 mph in Seconds)
Top Speed
(mph / kmh)
Gears
Engine
Drivetrain
(FWD / RWD / AWD)
Mass
(kg / lbs)
Fuel Tank
Size (litres)

Handling.dat

N/A
84 / 135
4
N/A
RWD
1200 / 2645
65

Website Statements

[?]

/ Badges

N/A
135 / 217
4
N/A
RWD
1200 / 2646
N/A

Observed / First-Person Speedometer (Enhanced version)

9.5 Seconds
85 / 136
5

FR

SOHC

V8 w/ 4 Double Barrel Carburettors (In-game model)
RWD
Cannot be observed
Cannot be observed

Rockstar Games Social Club

Speed
Acceleration
Braking
Traction
Modifications
Grand Theft Auto: San Andreas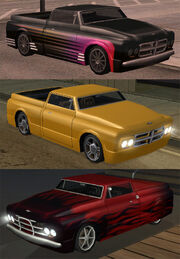 The Slamvan can only be modified at Loco Low Co. As such, the Slamvan is capable of participating in the Lowrider Challenge.
Type
Upgrades
Cost
Paint Jobs
Paintjob 1
$ 500
Paintjob 2
$ 500
Paintjob 3
$ 500
Colors
Car Color 1
$ 150
Exhausts
Chromer Exhaust
$ 3340
Slamin Exhaust
$ 3250
Front Bumper
Chromer Bumper
$ 2040
Front bullbars
Chromer Bullbar
$ 2130
Slamin Bullbar
$ 2050
Rear bullbars
Chromer Bullbar
$ 1610
Slamin Bullbar
$ 1540
Side Skirts
Chrome Trim
$ 780
Wheelcovers
$ 940
Wheels
Classic
$ 1620
Dollar
$ 1560
Twist
$ 1200
Wires
$ 1560
Trance
$ 1350
Cutter
$ 1030
Rimshine
$ 980
Virtual
$ 620
Access
$ 1140
Car Stereo
Bass Boost
$ 100
Hydraulics
Hydraulics
$ 1500
Nitro
2x Nitrous
$ 200
5x Nitrous
$ 500
10x Nitrous
$ 1000
Grand Theft Auto V
Type
Upgrade
Cost (Story)
Cost (Online)
Armor
Armor Upgrade 20%
$500
$4,500
Armor Upgrade 40%
$1,250
$7,500
Armor Upgrade 60%
$2,000
$12,000
Armor Upgrade 80%
$3,500
$21,000
Armor Upgrade 100%
$5,000
$30,000
Brakes
Street Brakes
$2,000
$4,000
Sport Brakes
$2,700
$5,400
Race Brakes
$3,500
$7,000
Engine
EMS Upgrade, Level 1
$900
$1,800
EMS Upgrade, Level 2
$1,250
$2,500
EMS Upgrade, Level 3
$1,800
$3,600
EMS Upgrade, Level 4
$3,350
$6,700
Lights
Xenon Lights
$300
$3,000
-
-
Loss/Theft Prevention
Tracker
N/A
$2,000
Full Coverage
N/A
$
Respray
-
-
Sell
Sell Vehicle
N/A
$
Suspension
Lowered Suspension
$500
$1,000
Street Suspension
$1,000
$2,000
Sport Suspension
$1,700
$3,400
Competition Suspension
$2,200
$4,400
Transmission
Street Transmission
$2,950
$5,900
Sports Transmission
$3,250
$6,500
Race Transmission
$4,000
$8,000
Turbo
Turbo Tuning
$2,500
$30,000
Wheels
-
-
Windows
Light Smoke
$200
$1,500
Dark Smoke
$450
$3,500
Limo
$700
$5,000
Image Gallery
Variants
Locations
Grand Theft Auto: San Andreas
Grand Theft Auto V
Grand Theft Auto Online
Available from Southern San Andreas Super Autos for $49,500.
Can be requested by the Road Captain of a Motorcycle Club for club use in free mode for $1000. This vehicle is black and comes with bullet-proof tires and a bullet-resistant windshield.
Trivia
General
The Slamvan plays the following radio stations by default when entered:
See Also
Ad blocker interference detected!
Wikia is a free-to-use site that makes money from advertising. We have a modified experience for viewers using ad blockers

Wikia is not accessible if you've made further modifications. Remove the custom ad blocker rule(s) and the page will load as expected.