This article or section contains insufficient information and is considered as a Stub. You can help the GTA Wiki by expanding it as much as you can.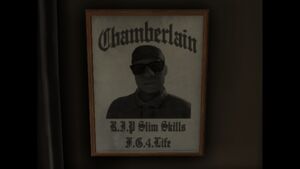 Slim Skills was a member of The Families in Grand Theft Auto V. He was a Chamberlain Gangster Families member. The "F.G.4 Life" under his photo could mean "Families Gangsters for life" or "Forum Gangsters for life", but is likely referring to him as being a "Family Gangster for life" who's earnt O.G (Original Gangsta) status among members within the Families gang.
Trivia
Ad blocker interference detected!
Wikia is a free-to-use site that makes money from advertising. We have a modified experience for viewers using ad blockers

Wikia is not accessible if you've made further modifications. Remove the custom ad blocker rule(s) and the page will load as expected.