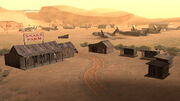 The Snake Farm is located just southwest of the Verdant Meadows airstrip in Bone County, San Andreas. The business itself is inaccessible to the player. It is featured in the mission Don Peyote. In this mission, Kent Paul and Maccer decide to go to the snake farm to find their missing bandmates, since Maccer recalled that the last time he saw his missing bandmates, there were snakes. However, upon arriving there, they discovered that the band wasn't there; instead, some locals attacked them, apparently because the band members sexually assaulted them the previous night.
Vehicles
Weapons
Knife - In between two shacks.
Ad blocker interference detected!
Wikia is a free-to-use site that makes money from advertising. We have a modified experience for viewers using ad blockers

Wikia is not accessible if you've made further modifications. Remove the custom ad blocker rule(s) and the page will load as expected.