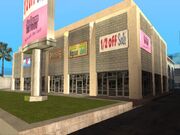 Sodom Sex Toys
is a sex toy store with two locations in
Market
,
Los Santos.
One is opposite the north side of
Verona Mall
and the other one is on
Vinewood Boulevard
. The stores slogan is: "We've got the Lot!"
Trivia
The store's name is a reference not only to the act of sodomy, but to the biblical city of Sodom, which was eradicated along with its neighbor Gomorrah for its wickedness. It's slogan is also a reference to the biblical character Lot, described as the only holy man in Sodom.