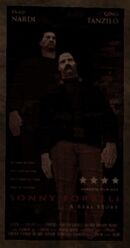 Sonny Forelli: A True Story is a movie seemingly based on the life of Forelli Family Don Sonny Forelli, released in 1998. Posters for the movie can seen around Pike Creek, Shoreside Vale in Grand Theft Auto: Liberty City Stories.
The movie is believed to have been made by the Forelli Family as a propaganda film in order to promote the Forellis, and also possibly made in tribute to Sonny himself, as he had been killed in 1986 (the events of Grand Theft Auto: Vice City), 12 years prior to the release of the film. The movie holds a four-star rating.
Trivia
Ad blocker interference detected!
Wikia is a free-to-use site that makes money from advertising. We have a modified experience for viewers using ad blockers

Wikia is not accessible if you've made further modifications. Remove the custom ad blocker rule(s) and the page will load as expected.