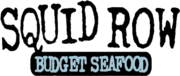 Squid Row is a chain of budget seafood restaurants featured in Grand Theft Auto IV and Grand Theft Auto: Chinatown Wars.
None of the restaurants are accessible and the business plays no role in the storyline, though during Club Management in The Ballad of Gay Tony, Luis Lopez and Daisie Cash-Cooze travel to one of the stores looking for Chris Hunt, only to find he has already left.
Locations
Gallery
Trivia
The restaurant's name is a parody of "skid row", a slang term for a rundown area. This is further illustrated by the restaurant's logo featuring a squid with a torn hat holding a bottle, cigarette and syringe.
Ad blocker interference detected!
Wikia is a free-to-use site that makes money from advertising. We have a modified experience for viewers using ad blockers

Wikia is not accessible if you've made further modifications. Remove the custom ad blocker rule(s) and the page will load as expected.