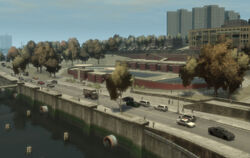 Steinway Park is a large public park located between Concord Avenue and Franklin Street in Steinway, Dukes. The park contains three large outdoor public swimming pools, trees, a basketball court, a main building and a vast amount of open space. A Washington for Stevie's Car Thefts is located on Franklin Street, opposite the swimming pool in the park. Salt in the Wound, the Climax mission in Grand Theft Auto: Chinatown Wars begins here.
It is based on Astoria Park in Queens, New York.
Gallery
See Also
Ad blocker interference detected!
Wikia is a free-to-use site that makes money from advertising. We have a modified experience for viewers using ad blockers

Wikia is not accessible if you've made further modifications. Remove the custom ad blocker rule(s) and the page will load as expected.