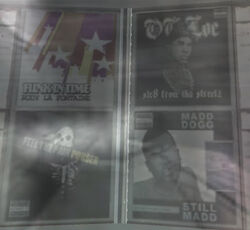 Still Madd is rapper Madd Dogg's second album, released in 1990, two years before the events of Grand Theft Auto: San Andreas.
Description
The album cover is based on Ice-T's O.G. Original Gangster (1991), while the album title may be a reference to Dr. Dre's song Still D.R.E.. This album must have been made sometime after the events of San Andreas; where CJ got Madd Dogg back on his feet. This album may be a nod to the cut-scene video after playing the mission, End of the Line, where Madd Dogg showed off his golden record to the Johnson family.
In 1998, Still Madd is digitaly remastered and released in a new cover that swaps the images of Madd Dogg and his crib on the album's front. This version album can be found in Comrades Bar, Hove Beach and in the South Bohan safehouse amongst a pile of CDs on the floor near the coffee table.