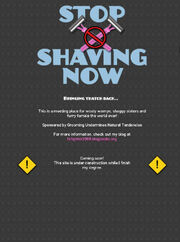 stopshavingnow.net is a website in Grand Theft Auto IV. It is a feminist website advocating against women shaving. The website is under construction because its webmaster, Fefighter2008, is finishing her degree. Roman Bellic mentions the website in the mission Logging On, saying that the site was pretty important.
Ad blocker interference detected!
Wikia is a free-to-use site that makes money from advertising. We have a modified experience for viewers using ad blockers

Wikia is not accessible if you've made further modifications. Remove the custom ad blocker rule(s) and the page will load as expected.