"Don't miss this opportunity to snap up a Classic Stratum station wagon at a bargain price. A short-lived Zirconium model that was plagued with bad reviews... Or as we like to call it, Limited Edition!"
―Southernsanandreassuperautos.com description.
The Stratum is a mid-sized four-door station wagon seen in Grand Theft Auto: San Andreas, Grand Theft Auto IV and its episodes, Grand Theft Auto V and Grand Theft Auto Online. It is manufactured by Zirconium in the HD Universe.
The Stratum is generally depicted as a conventional station wagon. However, it has a more streamlined design than other station wagons in the series.
GTA San Andreas Edit
The Stratum's design, performance, and its likely V6 engine suggest that it is derived from the fifth generation (1994–1997) Honda Accord wagon; however D-pillars have been added. The car's real-life counterpart fails to fit in the game's time setting (1992). It could also be based of the Saturn SL1 wagon because of the time period, styling and plastic body.
The car is one of the gang cars used by the San Fierro Triads.
HD Universe Edit
In GTA IV, the Zirconium Stratum 2.6GT still takes its primary inspiration from the 1998-2001 Citroën Xantia estate and the fifth generation Honda Accord station wagon or Saturn SL1 (with the same added pillars as the previous rendition), albeit with a front end derived from the S3-R31 and R32 Nissan Skyline (hood, hood badge and grill from the R31 and headlight design from the R32). The rear end greatly resembles the first generation Subaru Impreza station wagon although much longer and C-pillars which may be derived from the 1996-2001 Toyota Camry wagon. The bodywork also has a very large resemblance to the Ford EF Falcon Wagons or the Mk III Ford Sierra wagon.
In GTA V, the Stratum's design remains unchanged,, except for an added all-wheel-drive.
Current Design GalleryEdit
Version History GalleryEdit
PerformanceEdit
GTA San Andreas Edit
Acceleration and speed are surprisingly good, considering the Stratum's size. The engine is most likely a powerful V6 or Inline-4 and the drivetrain is front-engine, rear-drive, making the Stratum a good selection as a drive-by vehicle. The body is weak, however, making the car susceptible to intense damage from high-speed impacts and heavy gunfire.
HD Universe Edit
The model appears to show an Inline 4 with a single turbo fitted, alongside the Turbocharger's air filter (seen at the bottom right). This is coupled to a 5 speed gearbox in a RWD configuration. Acceleration is rather decent, and its top speed (312 km/h, 194 mph
) is pretty good for an average station wagon.
The Stratum's handling is quite good, though oversteer can be dramatic at times, and its suspension evens out bumps without being excessively soft. Braking is acceptable, and ABS is standard on all Stratum station wagons. Crash deformation is very good, with the Stratum keeping most of its shape in a collision; engine build quality, however, is less desirable, with the Stratum often left disabled after only a few impacts.
GTA V OverviewEdit
Source
Acceleration
(0 - 60mph / 0 - 100km/h)
Top Speed
(mph / km/h)
Engine Details
(Cubic Capacity/Layout/Type)
Drivetrain
(AWD / FWD / RWD)
Gearbox
Number + Type
Mass
(Kg / lb)

Defined/Claimed
(i.e. Game data definitions, or claimed in-game.) (Claimed Top Speeds)

n/a
84 / 135 (Handling.dat)

n/a

AWD
40% FWD
60% RWD

5

1800 / 3968

Observed/Tested
(i.e. recorded/tested using in-game data.) (Observed Top Speeds & Acceleration Times)

15.6 Seconds
95 / 152

F4 DOHC Turbocharged Inline-4 (in-game model)

AWD

5

Mass cannot be observed.
Modifications (GTA San Andreas) Edit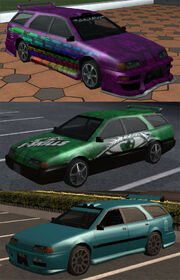 The Stratum is considered a tuner, and can be upgraded at
Wheel Arch Angels
in
Ocean Flats
,
San Fierro
.
Type
Upgrade
Cost
Paint Jobs
Paintjob 1
$ 500
Paintjob 2
$ 500
Paintjob 3
$ 500
Colors
Car Color 1 (64 different colors)
$ 150
Exhausts
Alien Exhaust
$ 830
X-Flow Exhaust
$ 720
Front Bumper
Alien Front Bumper
$ 1030
X-Flow Front Bumper
$ 930
Rear Bumper
Alien Rear Bumper
$ 1030
X-Flow Rear Bumper
$ 920
Roof
Alien Roof Vent
$ 230
X-Flow Roof Vent
$ 180
Spoilers
Alien Spoiler
$ 620
X-Flow Spoiler
$ 530
Side Skirts
Alien Side Skirts
$ 520
X-Flow Side Skirts
$ 430
Wheels
Cutter
$ 1030
Rimshine
$ 980
Mega
$ 1030
Grove
$ 1230
Switch
$ 900
Shadow
$ 1100
Classic
$ 1620
Dollar
$ 1560
Import
$ 820
Atomic
$ 770
Car Stereo
Bass Boost
$ 100
Hydraulics
Hydraulics
$ 1500
Nitro
2x Nitrous
$ 200
5x Nitrous
$ 500
10x Nitrous
$ 1000
Image GalleryEdit
The game's Stratum may appear in two forms; the standard model and the "Twin Turbo" variant, which features an additional spoiler over the rear windscreen and a "Twin Turbo" badge in the rear. The GTA IV rendition also features an optional sunroof or luggage rails.
Locations Edit
GTA: San AndreasEdit
The Stratum plays the following radio stations by default when entered:
GTA San AndreasEdit
In the beta version of GTA San Andreas, the Stratum had an emblem on the hood.[1]
The Stratum had a glitch that if you fit an X-Flow front bumper to it, it will show a mirrored license plate without the registration number.
In GTA San Andreas, it is one of the gang cars used by the San Fierro Triads, the other two being the Elegy and the Sultan; it heavily increases CJ's sex appeal.
HD Universe Edit
The GTA IV Stratum is equipped with a GPS system with a male voice, but only if the player leaves the "selected cars" (default) option in the audio menu.
In GTA IV, after completing Stevie's text message car thefts, the Stratum may be sold in his garage for $1,800.
In GTA Online, The Stratum makes a good car for people starting off, despite it being a wagon, it has a reasonable top speed, cheap to get back once destroyed and is controllable on all terrain due to its four wheel drive. Players do need to be mindful that the Stratum has no visual modifications in Los Santos Customs, unlike in San Andreas' Wheel Arch Angels.
Reference Edit