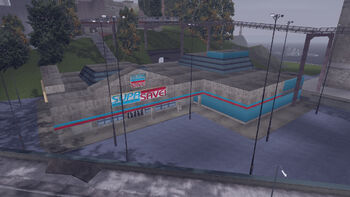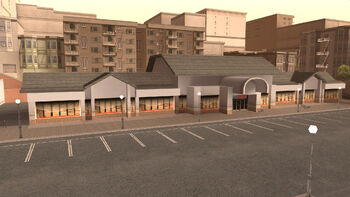 Supa Save! is a supermarket chain from Grand Theft Auto III and Grand Theft Auto: San Andreas. Little is explored of Supa Save!, as its buildings are inaccessible, and serves no purpose in any storyline. Supa Save! branches exist in Portland View, Portland Island, Liberty City in GTA III and Juniper Hill, San Fierro, San Andreas in GTA San Andreas.
As implied in Grand Theft Auto: Liberty City Stories, the Portland View Supa Save! was a former Fidl market branch.
It is inaccessible to the player in both GTA III and GTA San Andreas. The supermarket is most likely based off of Safeway due to the name similarity and the fact they are both grocery stores.
Trivia
In Grand Theft Auto: San Andreas, there are shopping carts in front of the Supa Save! supermarket in San Fierro. If looked at closely, the handles on the carts say "Saveway". This name is a parody of Safeway.