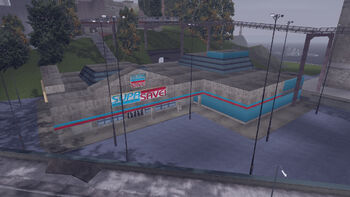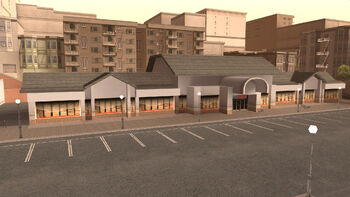 Supa Save! is a supermarket chain from Grand Theft Auto III and Grand Theft Auto: San Andreas. Little is explored of Supa Save!, as its buildings are inaccessible, and serves no purpose in any storyline. Supa Save! branches exist in Portland View, Portland Island, Liberty City in GTA III and Juniper Hill, San Fierro, San Andreas in GTA San Andreas. As implied in Grand Theft Auto: Liberty City Stories, the Portland View Supa Save! was a former Fidl market branch.
Trivia
In Grand Theft Auto: San Andreas, there are shopping carts in front of the Supa Save! supermarket in San Fierro. If looked at closely, the handles on the carts say "Saveway". This name is a parody of Safeway.
The name could be a slight reference to Pic 'N' Save.
Two pedestrian models found in Newport, Torrington and Bedford Point have Supa Save! bags, though they are hard to read as they are crumpled due to heavy ammount of items inside. One is a slightly changed version of an oriental woman found in Chinatown. while the other is based off of a woman found in main parts of Liberty City.

In Liberty City Stories, they carry different bags, as Supa Save! didn't exist in Liberty City by that time.
Collectibles
GTA San Andreas