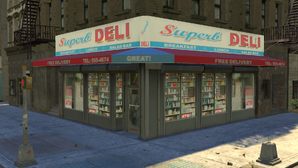 Superb Deli is a deli market featured in Grand Theft Auto IV.
Description
It is located on the corner of Liberty Lane and Feldspar Street between Little Italy and Suffolk, Algonquin.
The store has no purpose in the storyline whatsoever. The store's phone number is 555 4674, however dialing this number leads to no response.
Gallery