Sweet's Girlfriend is a minor character who has had two minor appearances and two character models in Grand Theft Auto: San Andreas.
Sweet's Girlfriend had a minor role in the actual mission, yet the name itself is misleading due to her not having any speaking roles, nor helping the characters or player during gameplay.
Her character model is a standard business woman pedestrian, to whom she only speaks when "pushed" by the player, yet in the pedestrian's default voice.
Sweet's Girlfriend has a completely different role, and character appearance, to whom she only appears in the cutscene of the actual mission, to where she attempts to give Sweet a blunt of cocaine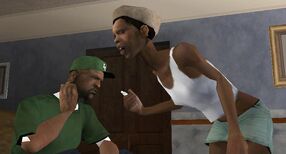 and is eventually "shooed away" from CJ.
Her character model is a unique, exclusive character model, and only appears during the cutscene for the mission, and during some of the final missions leading towards the end of the game.
Because of her different appearance, it could be that she has changed due to smoking blunt.