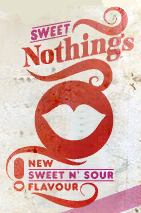 Sweet Nothings is a brand of candy in Grand Theft Auto IV and Grand Theft Auto V.
Description
Sweet Nothings can be seen in some vending machines and are sold in many 24-7, Limited Service and Rob's Liquor stores, but it cannot be bought by the player. Its name and the fact that some boxes have "nothing but sugar" on them could mean these sweets are really just flavourless hard sugar lumps.
They are clearly based on UK-made Love Hearts and US-made Sweethearts.
Gallery
Ad blocker interference detected!
Wikia is a free-to-use site that makes money from advertising. We have a modified experience for viewers using ad blockers

Wikia is not accessible if you've made further modifications. Remove the custom ad blocker rule(s) and the page will load as expected.