Roleplayer?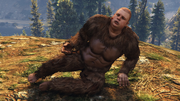 Should we create a separate character page for the guy dressing up as the sasquatch as discovered in "the Last One"? smurfy (coms) 23:41, April 29, 2015 (UTC)
Definitely. I was just thinking about that.

(

) 23:49, April 29, 2015 (UTC)Smashbro8
I agree, go for it. DocVinewood (talk) 23:52, April 29, 2015 (UTC)
I was going to agree but it's already done. It would be the same thing if we said that the Impotent rage cosplayer was in fact the hero called Impotent Rage.

(talk/stalk/blog) 01:07, April 30, 2015 (UTC)
Ad blocker interference detected!
Wikia is a free-to-use site that makes money from advertising. We have a modified experience for viewers using ad blockers

Wikia is not accessible if you've made further modifications. Remove the custom ad blocker rule(s) and the page will load as expected.