I think the blista in gta 3 looks like a second genereration ford windstar while the gta lcs version looks like a first generation ford windstar. dspecht97
Jiffi?
So I was dicking around at LS Airport, annoying people and looking for a letter scrap. I decided to look at the Ads and one said "See San Andreas in a Jiffi". So I just wondered if this was a beta name for the car or is it a car renting company (Rentals from $110 a hour   JiffiRent)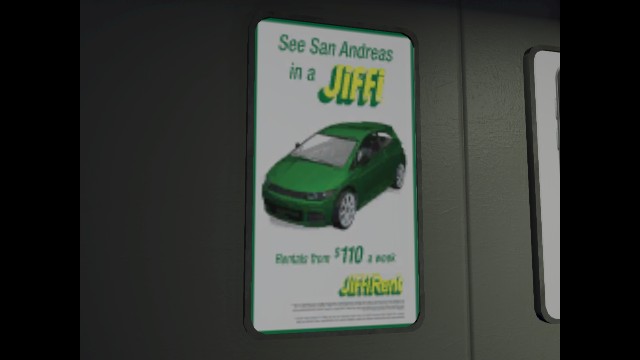 No 4-door sedan version?
Why GTA V Blista does not have a sedan variant? If it does, it will effectively replace the previous Chavos.
Engine
Like all cars, the engine model is awful...but, we can clearly see this doesn't even have a model, it's just a cover, a V8 - the only "modeled" part of this engine is the 4-sided V8 block underneath the car which is found on every car and we choose to ignore because it usually disagrees with proper manifold modelling and/or engine covers.
There is no manifolds. Yes, I'm not stupid, I know V8's certainly don't belong in front wheel drive compact cars, but this is rockstar's way of presenting a game, so, so be it.